Uberrima Fides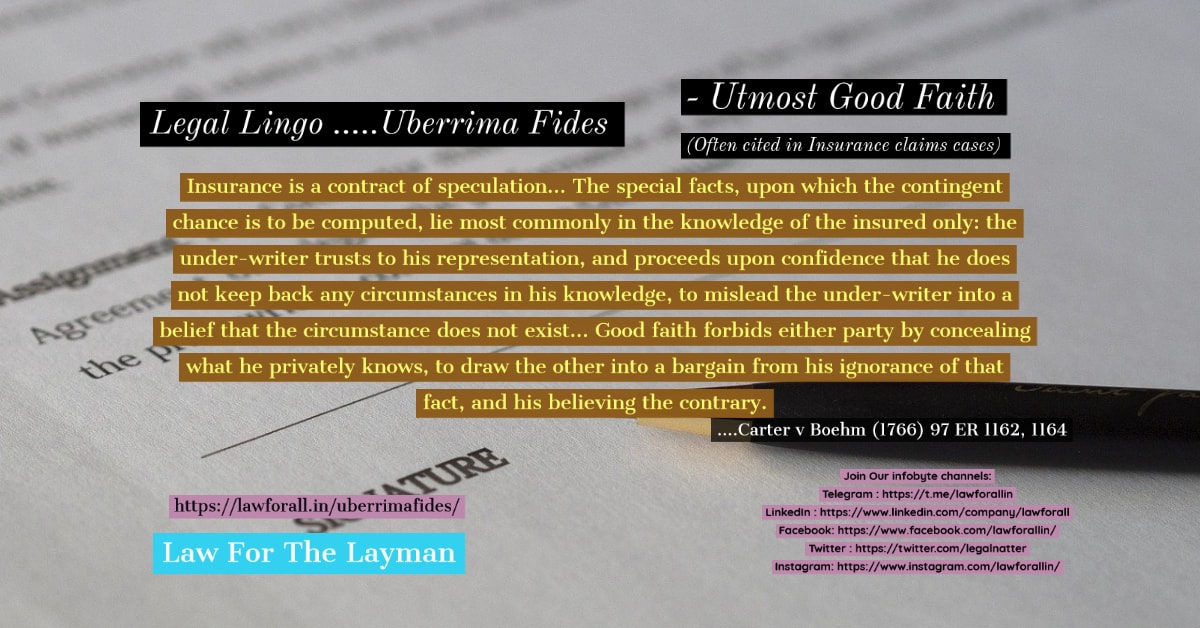 Talking to someone on an issue concerning medical negligence, I was reminded again of the doctrine of 'Uberrima Fides'. First explicitly set out almost 300 years ago !
Mostly used in insurance contracts, it is a Latin phrase meaning "utmost good faith" . All parties to an insurance contract must deal in good faith, making a full declaration of all material facts in the insurance proposal.
And is one that may come back to bite someone, at a stage  where nothing can be done. As was held recently ( Branch Manager Bajaj Allialnze Life Insurance Company vs Dalbir  Kaur, CA 3397/2020 ), citing Life Insurance Corporation Vs Asha Goel.
The Hon'ble Supreme Court quoted:
"12…The contracts of insurance including the contract of life assurance are contracts uberrima fides and every fact of material (sic material fact) must be disclosed, otherwise, there is good ground for rescission of the contract. The duty to disclose material facts continues right up to the conclusion of the contract and also implies any material alteration in the character of risk which may take place between the proposal and its acceptance. If there is any misstatements or suppression of material facts, the policy can be called into question. For determination of the question whether there has been suppression of any material facts it may be necessary to also examine whether the suppression relates to a fact which is in the exclusive knowledge of the person intending to take the policy and it could not be ascertained by reasonable enquiry by a prudent person."
So, generally a good idea not to hide any relevant fact.
We are also on :
Telegram : https://t.me/lawforallin
LinkedIn : https://www.linkedin.com/company/lawforall
Facebook: https://www.facebook.com/lawforallin/
Twitter : https://twitter.com/legalnatter
Instagram: https://www.instagram.com/lawforallin/