First Information Report – FIR – the Basics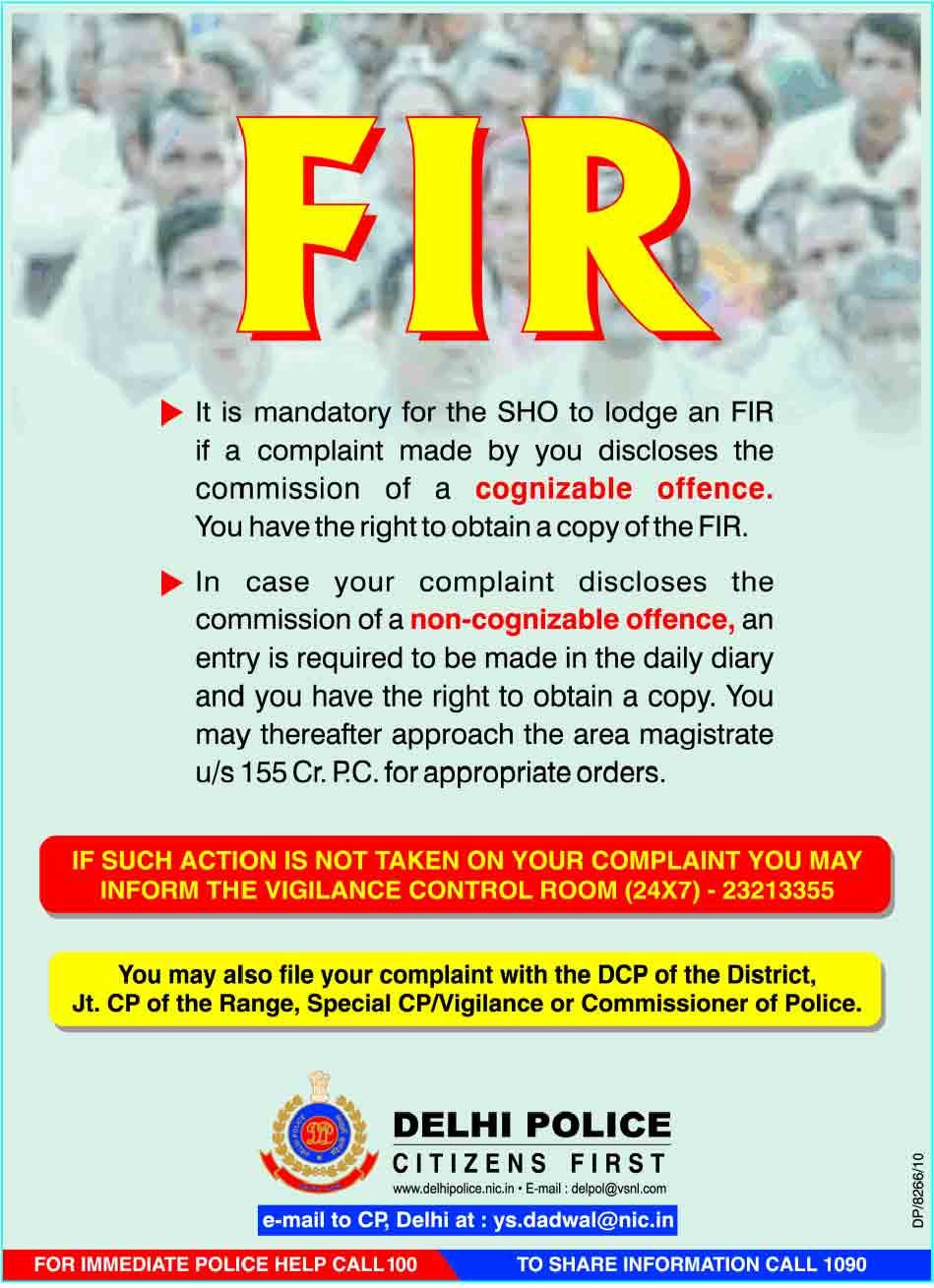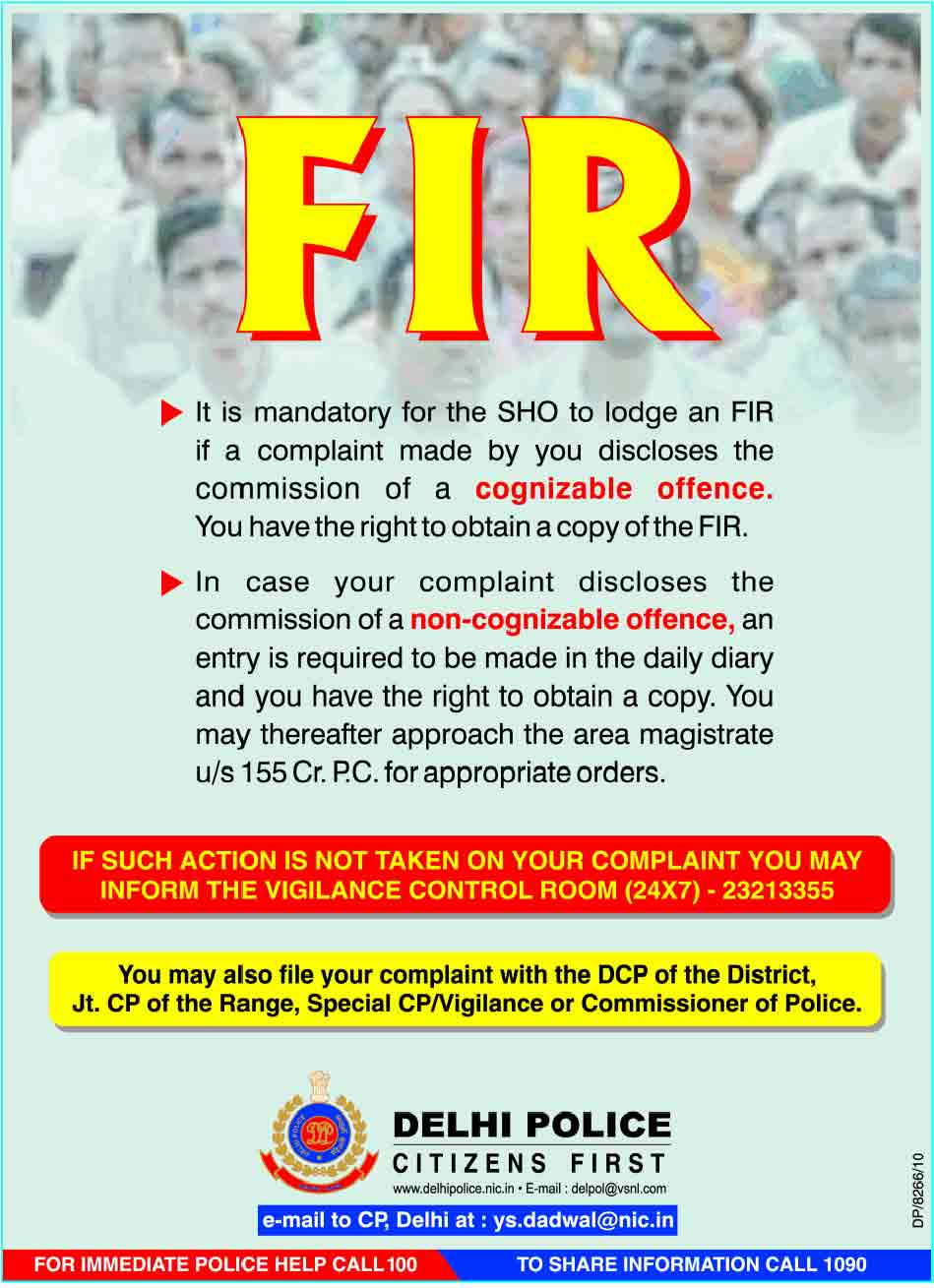 An FIR ( First Information report )
can only be lodged for a " Cognizable " Offense. The Offense category is clearly explained in the CrPC / IPC section it falls under. So, if there is no FIR to begin with, the issue of Bail does not arise.
Cognizable Offence
Police is empowered to register the FIR and investigate only the cognizable offenses. Police can arrest an accused involved in cognizable crime without the warrant from the Court. Theft, robbery, murder and rape are some instances of cognizable offenses.
Non-cognizable Offence
Here, Police can neither register the FIR nor can investigate or effect arrest without the express permission or directions from the court . Includes minor offenses such as abusing each other, minor scuffles without injuries, intimidation etc. For such cases, Police Station is required to record an abstract of such complaint in the General Diary which is called N.C. and advise the complainant to file the complaint in the concerned court as police is not empowered to initiate action in such matters without the directions of the court. Copy of such entry into the General Diary is provided free of cost to the Complainant.
First Information Report (FIR)
Report pertaining to occurrence of a cognizable offence, received at the Police Station is called First Information Report, popularly known as FIR. On receipt of this information police registers the report in a FIR Register and begins the investigation of the crime.
No charges/ costs are leviable for filing an FIR and a Copy of the same is to be provided to the Complainant  Free of Cost.
Lodging a False FIR
Is an Offense under S. 182 and S. 211 of IPC. People affected by such a complaint could also have recourses. For example, defamation per S. 182 of IPC.
Police Refusing to File FIR for a Cognizable offence
You have the following recourses, depending upon the circumstances of the case and the facts/ evidences available with you.
1) Send information in writing to Senior Police Officers such as Commissioner police, SP of the zone by Registered post, AD. Even E-mail can nowadays start the process.
2) File an RTI
3) File a Vigilance/ Anti Corruption complaint against the concerned Police Officers.
4) Use S. 190 CrPC which says :
Cognizance of offenses by Magistrates- section-190 of Cr.P.C
(1) Subject to the provisions of this Chapter, any Magistrate of the first class, and any Magistrate of the second class specially empowered in this behalf under sub-section (2), may take cognizance of any offense –
(a) upon receiving a complaint of facts which constitute such offense;
(b) upon a police report of such facts;
(c) upon information received from any person other than a police officer, or upon his own knowledge, that such offense has been committed.
(2) The Chief Judicial Magistrate may empower any Magistrate of the second class to take cognizance under sub-section (1) of such offenses as are within his competence to inquire into or try.