What is a Caveat ?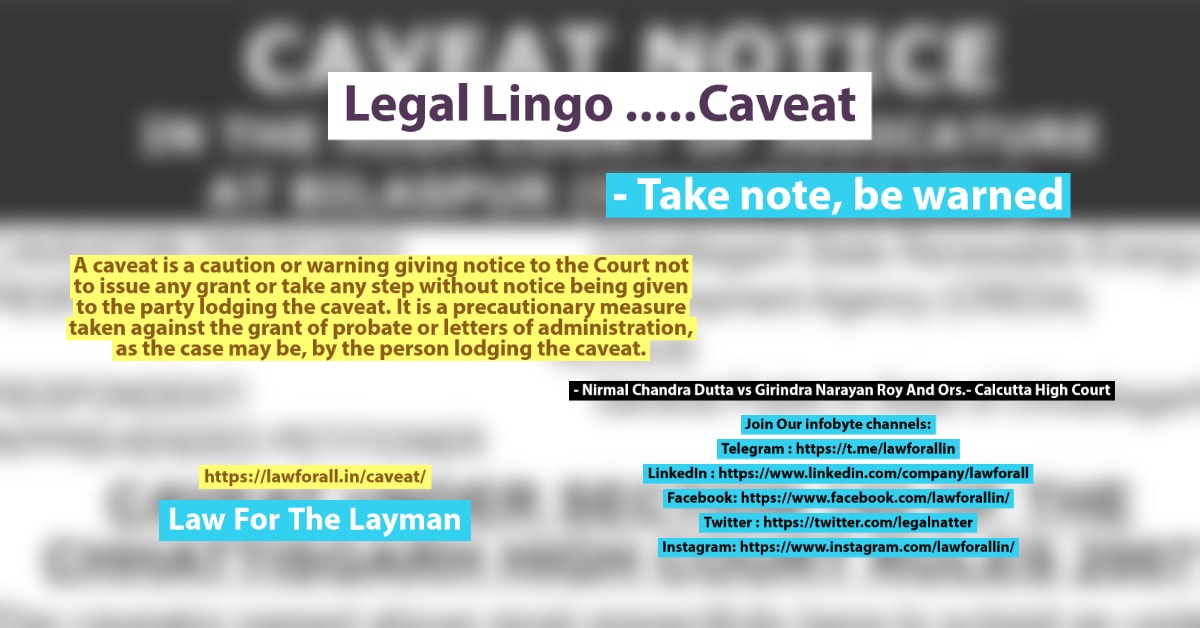 Caveat : a warning, caution or admonition, beware
What is it ?
Talking to someone on a Consumer matter, the issue of a caveat came up. Since this is a very common term frequently encountered, I thought of providing here preliminary information for any interested.
Legally, a caveat is a notice to a court to suspend a certain proceeding until the notice giver is a hearing. Essentially, it prevents the Court from passing an order without notice to the caveator (caveat giver). This notice allows the caveator to put forward his/her submissions to the court before judgement is passed.
Definition ?
While a caveat is not explicitly defined in Indian Law, Calcutta High Court Judgement Nirmal Chandra Dutta vs Girindra Narayan Roy And Ors. on 20 June, 1978 explains what it is as under :
" A caveat is a caution or warning giving notice to the Court not to issue any grant or take any step without notice being given to the party lodging the caveat. It is a precautionary measure taken against the grant of probate or letters of administration, as the case may be, by the person lodging the caveat."
A very common example of a caveat is one filed in a higher court ( court of appeal ) with reference to a judgement of a lower court. If any of the parties to the judgement files an appeal with the higher court, the caveator will be notified by the higher court before any further proceedings.
Indian Legal Provision
In Indian Law, S. 148 A of the Civil Procedure Code elaborates upon a caveat. It says :
148 A. Right to lodge a caveat.– (1)Where an application is expected to be made, or has been made, in a suit or proceeding instituted, or about to be instituted, in a Court , any person claiming a right to appear before the Court on the hearing of such application may lodge a caveat in respect thereof.
(2) Where a caveat has been lodged under sub-section (1), the person by whom the caveat has been lodged (hereinafter referred to as the caveator) shall serve a notice of the caveat by registered post, acknowledgement due, on the person by whom the application has been, or is expected to be, made, under sub-section (1).
(3) Where, after a caveat has been lodged under sub-section (1), any application is filed in any suit or proceeding, the Court shall serve a notice of the application on the caveator.
(4) Where a notice of any caveat has been served on the applicant, he shall forthwith furnish the caveator at the caveator's expense, with a copy of the application made by him and also with copies of any paper or document which has been, or may be, filed by him in support of the application.
(5) Where a caveat has been lodged under sub-section (1), such caveat shall not remain in force after the expiry of ninety days from the date on which it was lodged unless the application referred to in sub-section (1) has been made before the expiry of the said period.
When to file ?
A caveat should of course be filed in the higher court as soon as Judgement is pronounced in the lower court, and is valid for 90 days from the date of its filing. Thereafter  a new caveat may be filed if necessary.
How to file one ?
An application for filing a caveat contains Case Title and Number (for which the caveator fears an appeal may be filed in the higher court against a Judgement of the lower court ), name of the Court that delivered the Judgement, Date of the Judgement , particulars of Court / Authority that delivered the Judgement and short particulars of the Judgement.
A Vakalatnama, Memo of Appearance and Memo of Parties is also needed. In case the Caveator is appearing in person, in addition to these documents, Interlocutory Permission to appear and argue in person with affidavit and required court fees as well as copy of Valid Identity Proof is also needed.
In case of Delhi High Court Chapter XXX of Delhi High Court Original Side Rules covers Caveat ( see page 69 ). Click here for the Caveat application format.
In the Supreme Court a caveat can only be filed by an Advocate on Record, except when the caveator is filing in person. Supreme Court Handbook on Practice and Procedure and Office Procedure at Page 83-85 talks about a Caveat while Pages 260-261 give the format ( Form 34 ) of a caveat application. Present fees for lodging a caveat at Supreme Court are Rs. 500/=
How to find if one has been filed ?
If you want to check if a caveat has been filed in Supreme Court, click here .
To search for Caveats across different Courts in India, one may try this link and click on the "Caveat Search " Box on the left.
For any further queries and discussions, please use the contact us form.
We are also on :
Telegram : https://t.me/lawforallin
LinkedIn : https://www.linkedin.com/company/lawforall
Facebook: https://www.facebook.com/lawforallin/
Twitter : https://twitter.com/legalnatter
Instagram: https://www.instagram.com/lawforallin/